Обладательницам волнистых волос прекрасно известно, как сложно призвать непокорные локоны «к порядку». Упрямые и своевольные, они так и норовят растрепаться, выбиться из прически и испортить тщательно создаваемый образ. И для того чтобы успешно решить эту проблему, вам стоит выбрать специальные стрижки на волнистые волосы.

Короткие волнистые Средние волнистые Длинные волнистыеПроблемы и решения
Знаменитости с волнистыми волосами
Как носят волнистые волосы реальные люди из инстаграмма? Смотрим фото галерею!
View this post on Instagram

Lovely
View this post on Instagram

👏🏻HEALTH&BOUNCE>LENGTH 👏🏻 ................ Another example of what a trim, products and a diffuser will do for your hair! I trimmed about 2 inches off her length, and I layered her hair slightly. —— I followed the haircut with a shampoo using a cleansing conditioner, then a mask. I then styled her hair with @itsa10haircare curling cream. ——— After diffusing, I finished the service by shaping the hair, making sure there weren't any extra long pieces, and that the over all shape was balanced on all sides. —— . . . . . . . #curlyhair #curlyhairstyles #curly #curlyhaired #curls #curlspoppin #curlsaunaturel #curlscurlscurls #blondeandcurly #blondeandcurlyhair #curlyblonde #curlyblondehair #curlyandblonde #naturalcurls #naturallycurly #naturallycurlygirl #naturallycurlyhair #naturalwaves #naturallywavy #wavyhair #wavyhairstyle #itsatenhaircare #itsa10haircare #itsa10 #boisehair #boisehairstylist #boisehairsalon #boisehaircuts #boisehairdresser
View this post on Instagram

Vielen Dank liebe @s1namlr, dass Du mir deine wunderschönen Haare anvertraut hast, hatte mich so in meinem Urlaub danach gesehnt 😍 Freu mich auf deinen nächsten Besuch hier in Iserlohn. #longhair #blonde #olaplex #foilwork #foilayage #christmashair #wavyhairstyle #lovelyclient #beautys #hauptsachesonya #iserlohn
View this post on Instagram

Love dramatic makeovers #curls #curlyhair #curlymakeover #makeover #firsttimeclient #solasalons #solasalonsanrafael #solasanrafael #newlook #wavyhair #wavyhairstyle
View this post on Instagram

Thanks to everyone who voted on what I should do with my hair! 52% said leave long and 48% said cut it - super helpful 😂😂. In the end, I got at least 4 inches cut off my hair & I'm loving the new length and color. Thanks @amandazora ❤️! . . . . #curlyhairstyles #curlyhair #curly #curlygirlmethod #curlyhairdontcare #curlygirlproblems #curls #curly #wavyhair #wavyhairstyle #wavyhairstyles #hairgoals #curlyhairgoals #beforeandafterhair #beforeandafterhaircut #wavyhairdontcare #summerhair #summercurls #curlgirlmethod #ouidad #notyourmothers #ogx #sheamoisture #naturalcurls #naturalcurlsrocks #haircut
View this post on Instagram

4 weeks after the mullet cut and still raging NATURALLY. A good cut ..some natural styling tips and good product recommendation should air dry this well! Come get your cut and lesson with me at @rubyroom chicago <> #naturalhair #hairstylist #naturalwave #wavyhair #curlyhair #wavyhaircut #beachy #beachyhair #chicagohairstylist #rubyrooomchicago
View this post on Instagram

Beachy Waves 🏖🌊 Texture Created with l'oreal's Wild Stylers Beach Waves Salt Spray . . . . . . . #amiganyc #salonsbyjcny #chelsea #hairbytanya #flatirondistrict #wavyhaircut #shorthaircut #nychairstylist
View this post on Instagram

濃い色が主役の #秋コーデ には、ゴールドなど明るく軽い雰囲気の #メガネ がグッドバランス💮 Perfect your look with your favourite frames. 👓 . 📸@kalvisuals . #VirTry #アプリ #めがね #メガネ女子 #眼鏡 #モスグリーン #ゆるふわパーマ #ボブパーマ #メタルフレーム #金縁メガネ #振り向き #笑顔 #えくぼ #look #ootd #falloutfit #style #woman #virtual #eyewear #glasses #fashion #squareframes #metalframe #bobhaircut #wavyhaircut #smile #dimple
View this post on Instagram

Jennie's Transformation: Before & After, front & side. I used a #razor for adding #volume and #texture. This was rinsed and #diffused, all #natural no hot tools . . . . #beforeandafter #wavyhair #losangeles #razorcut #hair #haircut #washandgo #wavyhaircut #wabisabi #wabisabina
View this post on Instagram

Aujourd'hui c bouclettes ✌ et j'ai mis mes nouvelles boucles d'oreilles 😍 je pense que je vais les prendre d'en d'autres couleurs 😁 Bonne journée à tous 😘 #coupescourtes #coupedecheveux #coiffurecourte #coiffurefemme #ideecoiffure #idealookhair #shorthair #shorthairgirl #short_haircuts #lovehair #loveshorthair #haircuts #hairwavy #wavyhaircut #girly #sidecuthair #sidecut #mylooktoday #mylookhairtheday #look #mystyle #outfit #instashorthair #instahair #pixielooks #womanhaircut #womanstyles #influencer #influencerhair #aliexpress
View this post on Instagram

I love the shape of my new Deva Cut!! My hair has so many different curl patterns that it usually takes at least one adjustment after the initial cut, especially with a new stylist, so I'm not expecting immediate perfection! ➿ It was a curl by curl dry cut, then she dry brushed my hair with a boar bristle brush to confirm the shape, washed and styled me, and did some final tweaks. ✂️ I love the massive volume she gave me, along with the styling tips - pomade is in my future! The back still has a tail as you can see in the second pic, but she's being conservative there since she took off a couple inches of length and wants to give time for my hair to readjust. ⌛ It did take a good 2.5 hours in total, so I tipped her generously, and she's more than happy to have me come back in the next week or so to get some additional tweaks. 😅 Obviously styling my hair is tough - the stylist tried so hard using @devacurl Set it Free as a leave in, finger coiling, Super Stretch to even my curl patterns, the light defining gel, and the Beautiful Mess pomade to bring volume into my root areas and to tame frizz, clipping, diffusing, etc. It's still pretty undefined after all that 😂 I can tell my trial and error with styling has really payed off, though I'll surely adopt some of her techniques. #drycut #devacut #haircut #devacurl #beautifulmess #setitfreee #washdaywonder #devacurlsuperstretch #curlycut #curlyhaircut #curls #curlbycurl #curlbycurlcut #curlcut #wavyhaircut #wavyhairdontcare #wavyringlets #voluminouscurls #voluminoushair #bouncycurlyhair #bouncycurls #cgm #cgmethod #curlygirlmethod #nofilter #nomakeup
View this post on Instagram

🍃[ April 2,2017] 🍃 .back to when my hair was quite short and perfect:') . . . #deserts #lightroomedits #tomboyland #narinhoseini #narin#narinhosseinii #narinhosseini #iran#april22017 #nature#tomboy#tomboystyle #tomboylife #tomboyfashion #androgynous #vsxo #lightroom #tumblr#tumblrtomboy #tumblrmodel #tumblrmodels #wavyhaircut#shortwavyhair #lightbrown
View this post on Instagram

Back of this pretty bob! . . . . #beforeandafter #behindthechair #beforeandafterhaircut #bobhaircut #curlybob #wavyhair #curlyhaircut #wavyhaircut #bobhaircut #womenshaircut #haircut #solsalonculvercity #solsalon #culvercityhairsalon #curlyhairstylist #culvercityhairstylist #losangeleshairstylist #losangeleshairsalon #lahairstylists #beauty_launchpad #btc #american_salon
View this post on Instagram

S H A G A D E L I C ✨ Anyone who knows me, knows I love a shag with bangs. So, I was delighted to do this cut for my new client @deathanie_melton This was her first haircut after beating Non-Hogkins Lymphoma after a hard battle and losing all her hair. It came back very curly at first then returned to her naturally wavy texture. All of this hair was intact on her head, so we worked with what we had as we wanted to create a long shag. I'm super blessed I met such an amazing person and she felt comfortable enough to be vulnerable and share her story with me. I know when I met people like me when we can joke and be real about a sensitive topic. Stephanie is definitely my people. 👽 ❤️ Some of your curl stories may be hard to tell but I'm here for all of the deep weird conversation. 🌀 All products by @innersenseorganicbeauty 🌻 #wavyhair #curlyhair #naturallycurlyhair #naturallycurly #curlspecialist #wavyswavy #naturalcurlspecialist #stlcurlspecialist #heycurlstl #stlcurls #btcpics #americansalon #modernsalon #chopshopstyle #wavyhaircut #curlyhaircut #blondecurls #curlyhairartistry #curlyhairartist #thegrovestl #organichaircare #cleanhaircare #hairoftheday @innersenseorganicbeauty @curlmatch @statebeautystl @cosmoprofbeauty @readcurl
View this post on Instagram

Our favorite @grampswynwood bartender @lilymunnster came in last week to let her curls free! Drop those dead-weight waves and unleash your curls for the summer.
View this post on Instagram

A feminine meets tomboy chop with my favorite @missthirlby 🎯 #haircut #lob #curlyhair #wavyhair #wavyhaircut #curlyhaircut #curlybob #wavybob #losangeleshairstylist #shorthair #haircutideas
View this post on Instagram

Fine combination waves and curls can be tricky! My client had salon fear as many curly people do, so she hadn't been to have a cut for a year. Because he her hair is fine, her ends got thinner and thinner when they started to split and unravel. We started over with a medium length and some subtle layers. This type of cut makes the hair look thicker and fuller. We added lots of water for hydration 💦 I like to have very wet hair when I apply my product because it allows the hair to smooth and clump better, the finished product is thick, juicy curls 🌀 All products by @innersenseorganicbeauty 🌻 #curlyhair #naturallycurlyhair #beforeandafter #naturallycurly #wavyhair #wavyswavy #curlspecialist #naturalcurlspecialist #stlcurlspecialist #heycurlstl #stlcurls #btcpics #americansalon #modernsalon #chopshopstyle #curlyhaircut #wavyhaircut #curlyhairartistry #curlyhairartist #thegrovestl #organichaircare #cleanhaircare #hairoftheday @innersenseorganicbeauty @curlmatch @statebeautystl @cosmoprofbeauty @readcurl
View this post on Instagram

Curly before and after! ➿➰ . . . . . . . #beforeandafterhaircut #beforeandafterhair #curlyhair #curlyhairideas #wavyhaircut #wavyhair #curlyhaircut #shortcurlyhair #shortcurlyhairstyles #culvercityhairstylist #culvercityhairsalon #losangeleshair #losangeleshairstylist #lahairstylist #naturallycurly #curlyshorthair #hairondisplay
View this post on Instagram

Oh no she di'int. Oh yes she DID. If you saw me post last night in my stories... I spontaneously decided to cut A LOT of hair off. Not because I needed to. Not because I even wanted to. I like to call this a Crisis Cut, or a Stress Cut. You know that cut or dye job you gave yourself when a relationship imploded? Or your job didn't work out? Or you moved cross country? Yeah, that's a Stress Cut. I'm a 6 on the Enneagram (google it if you're unfamiliar), and let me tell you... I am QUEEN of the bad stress decisions. Even when everything is great and life is easy peasy I'll get rid of most of my clothes, dye my hair maroon, chew my nails off to nubby stumps, move 2,000 miles away, or chop off my hair (yes, I have done all of these things, many of them more than once, and I AM learning to practice better coping techniques 🙏). So here I am. I've been trying to grow my hair out for over a year and a half now, but it is what it is. And you know what?? My curls are so healthy now! ✨ And I'm one step closer to blending my greys with the rest of my hair! 💪 Anyone else give themselves a stress cut? Also, I watched the @jannelleoshaughnessy wash day tutorial on YouTube and got some great tips for volume and definition so check her out! And I feel like I'm channeling (ok TRYING TO CHANNEL) my very most confident @reallifecurlygirl and @lovelifecurls short curly bob confidence. They both have wash day / styling tutorials on Instagram and/or YouTube you should check out especially if you stress cut (or just want!) a short curly/wavy bob. 😘 1 Peter 5:7 #curlyhair #curlycut #wavyhair #wavyhaircut #newhairwhodis #shorthairdontcare #curlygirlmethod #naturallywavy #naturallycurly #cgmethod #jannellesgotmycurls #girlswithcurls #curlslikeus
Как понять какая стрижка подойдет?
Если вы не можете понять какая стрижка вам подойдет, попробуйте определить вашу форму лица по картинке ниже. Секрет прост — объема волос должно быть больше там, где его не хватает лицу + пряди должны украшать лицо (вытягивать круглое, челка подойдет широкому лбу, тонким и мелким чертам лица отлично подходят короткие стрижки, овальному лицу — подойдет все).
Фотогалерея

Квадратная форма лица
Круглая форма лица
Лицо овальной формы
Лицо сердечком
Лицо треугольной формы
Лицо в форме бриллианта
Стрижки на короткие волнистые
Остромодны короткие стрижки на волнистые волосы. Тщательно профилированные пряди, подстриженные «перьями» разной длины, позволяют создавать любые укладки, от официально-гладких, до воздушно-романтичных. Этот же вариант стрижки подходит и для обладательниц волос средней длины. Он позволяет им сделать прическу более воздушной. Уложив волосы в художественном беспорядке и позволив им свободно ниспадать на плечи, вы сможете создать максимально озорной и стильный образ. Как вариант, можно придать концам волос максимальную пышность и объемность. В сочетании с соответствующим макияжем такая прическа превратит вас в настоящую леди-вамп!
Стрижки на средние волнистые
Для того чтобы укротить непослушные локоны средней длины, стоит выбрать для них «каскад» с рваными концами. Такой вариант прически, дополненный легким мелированием, позволяет визуально «сглаживать» переход между локонами. Как результат, ваша прическа будет достаточно пышной, но без чрезмерного буйства кудрей. А оттеночное окрашивание придаст волосам здоровое сияние. Если же ваши локоны от природы крупные, можно ограничиться созданием легких «ступенек», позволяющих волосам красиво обрамлять лицо.
Стрижки на длинные волнистые
Как понять, что вас подстригли хорошо? Для волнистых волос это понять не трудно — ваши волосы должны лежать равномерно и постепенно переходить в тонкие кончики. Волнушки должны лежать друг на друге и не топорщиться. Оцените стрижку на мокрых волосах — так будет понятнее. Если после сушки результат вас не устроил, возможно вы неправильно высушили волосы или вам необходима уходовая косметика для волнистых волос (смотрите видео ниже)
Если же вы планируете выпрямлять свои волосы, делая их максимально гладкими у корней, выберите для себя простые стрижки на волнистые волосы, с объемной челкой и прядями одинаковой длины. Такой вариант прически неизменно актуален и подходит женщинам любых возрастов!

Проблемы и решения
Как справиться с пушение волнистых волос
Косметика для волнистой прически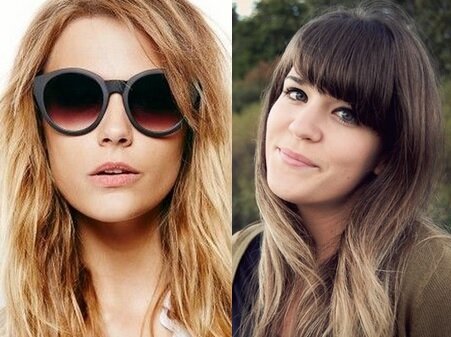 Простые прически для волнистых волос
Фото галерея знаменитостей с волнистыми волосами